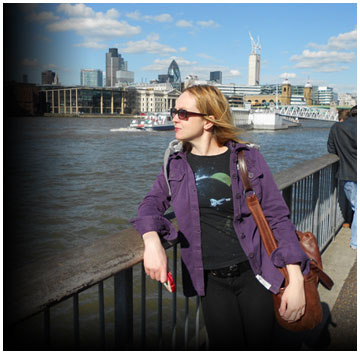 Artist and Printmaker
Kristina Lee
Kristina was born in Lvov, Ukraine in 1979, as a child Kristina grew up as the Soviet Union fragmented and collapsed.
Though born in the Ukraine, Kristina is of Russian decent, with her parents and extended family coming from the Tulskaya Oblast region in Russia and this is where she feels her roots are and indeed her parents have since returned to this part of Russia.
Kristina moved permanently to the United Kingdom in 2007 and is pursing life as an artist and print maker in London.
Her creativity comes out in two main mediums, painting and printmaking. Her larger works generally use acrylic paint on canvas in which she has been predominately exploring raised texture and lines of paint alongside the visual burst of colour, shape and form..
In translating her ideas through printmaking Kristina was inspired by her Tutor Ali Yanya at Kensington and Chelsea College, he gave Kristina the confidence and impetus to follow through with her thoughts, which increased her desire and passion for subject.
As Kristina says "The most important passion in life is creativity and there is no end to creative perfection - you are always trying to improve."
I feel "the essence of immortality is trying to get better, to get as much creativity as you can manage in your life time."
Kristina conceptual influences are drawn from a wide variety of sources including artists Henry Moore and Picasso, as well as African art and sculpture having visited West Africa in 2010. Other sources have include her children's drawings, human and animal shapes and forms which she then interprets in an abstract, surrealistic and primitive way.
These conceptual influences run alongside her desire to continue to explore printmaking techniques like soft and hard etching, aquatint, and mono-print etc.
Facebook
Now you can view my timeline on Facebook:
Kristina's QR Code
Kristina vCard or contact details